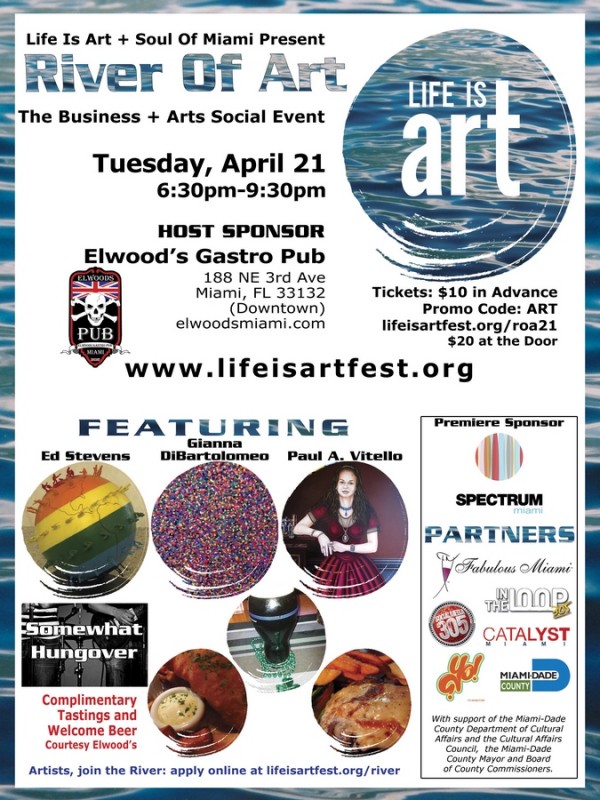 Life Is Art & Soul Of Miami present the River Of Art #21 Business + Arts Social Event
Tuesday, April 21, 6:30pm-9:30pm
Elwood's Gastro Pub
188 NE 3rd Ave, Miami, FL 33132 (Downtown)
$10 with Advance Purchase, Promo Code ART
$20 at the Door
Advance discount ticket sales end at 2:00pm on April 21st
Includes complimentary light cuisine tastings and a welcome beer courtesy of Elwood's.
Share with your friends
Hashtag: #RiverOfArt
Bringing People and Art Together
Life Is Art & Soul Of Miami present the River Of Art with an exciting evening of business networking featuring an interesting show, excellent music, delicious cuisine tastings and refreshing beverages. The River Of Art is a monthly gathering place of Miami's good people, executives, industrialists, innovators, creators, entrepreneurs, changemakers, activists, and artists. Enjoy a complimentary welcome beer and tastings of the menu included with your entry.
Featuring
Visual Artists: Ed Stevens, Gianna DiBartolomeo, Paul A. Vitello
Musical Artists: Somewhat Hungover
Each month, Life Is Art brings the community together at our River Of Art pop-up art-in-public-places show to socialize through the power of the arts with the goal of exposing new artists, introducing new people to art appreciation, providing an inspiring space to make new connections, showcasing local businesses and charities, while providing a fun break during the work week.
Art is an inspiring talking point, discussing it is a great way to break the ice. Culture is one of the primary elements that build community and hosting a business networker within an art show is a unique way to encourage socializing, so be sure to bring plenty of business cards and an open mind!
Premiere Sponsor: Spectrum Miami
Partners: Fabulous Miami – YOMiami – SocialMedia305 – Catalyst Miami – InTheLoop305 – Arts & Business Council – Bakehouse Art Complex – Association of Fundraising Professionals – Social Media Club South Florida – The New Tropic
With support of the Miami-Dade County Department of Cultural Affairs and the Cultural Affairs Council, the Miami-Dade County Mayor and Board of County Commissioners.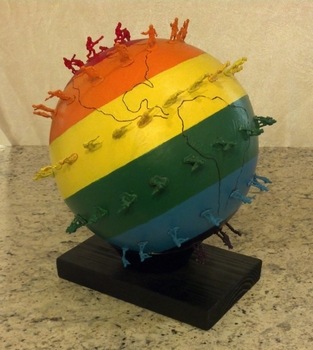 About Ed Stevens
Ed Stevens, M.Ed., M.A., began his career in visual and performing arts at Boston University, where he studied art history and visual arts and received his Bachelor of Arts degree. Ed spent the last 20 years as a playwright, director and set designer, receiving the Kennedy Center's 2005 David Mark Cohen Award. His work was produced in New York City, Provincetown, St. Petersburg and San Diego. He moved to Ft. Lauderdale in 2012 and has returned to his roots in the visual arts. Currently he creates striking multi-media assemblies that incorporate social commentary and a sense of dramatic storytelling. His ASK,TELL! series celebrates the end of the disastrous "don't ask, don't tell" anti-gay policy of the US military.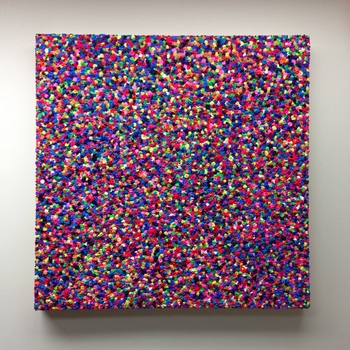 About Gianna DiBartolomeo
Gianna DiBartolomeo is a Miami native, born and raised in Miami, Florida. She earned her Bachelor's of Fine Arts from Florida International University. Her work has been exhibited during Art Basel Miami, in New York, New Hampshire, Miami's Wynwood Art District, the Coconut Grove Arts Festival, Seminole Hard Rock Hotel & Casino, South Miami, on the cover of Creative Quarterly, MOCA's website, and in Visual Overture and the Miami New Times.
About Paul A. Vitello
I was born in Miami Florida in 1950, my parents are Italian and Cuban first generation American. I feel that I got the best of both worlds, with their Spanish and Italian art heritages as part of my life. received my Bachelor of Fine Art, Florida International University, in 1976 and my Bachelor of Education, University of Miami, in 1974, I also have my State of Florida Teaching Certification in : Art Education K – 12 as well as in Graphic Technology, and Technology Education. I am also a professional member of numerous art societies and museums such as the Museum of Modern Art [ New York City ] member, 2009 and THE Norton Museum of Art [Palm Beach] member, 2009. I have been involved in many one person and group exhibitions in my art career from my first one man show at Florida International University, Miami Fl [Vitello glass inspired oil & watercolor works] in 1979 to "VITELLO 2002" A Retrospection, Walter C. Young Center, Pembroke Pines, Fl. Also fist prize in watercolors in the 9th annual Compettion in Pembroke Pines. Just finished 30years teaching, and now re entering the art world.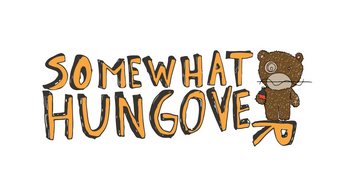 About Somewhat Hungover
Laying down grooves to dance to since 2011.
Julisa Fust̩ РGolden Pipes
Alan Miller – Funky Sax
Brian Sayre – "Boom Chick, Boom Chick"
Justin Trieger – Git Fiddle
About Elwood's Gastro Pub
The local public house with gastronomical food served with great beer and wine.
About the River Of Art Program
The River Of Art is a monthly business networker and art showcase combined. We provide more than just a platform for professionals to get together, discuss business strategies and make connections, we create synergies to help promote business by including an amazing art show of local talent!
About Life Is Art
Life Is Art is a Florida-based 501(c)3 non-profit corporation dedicated to creating positive change in the community with the arts and culture through events and education. We give South Florida artists and civic leaders the tools to thrive and grow, while enhancing the lives of those living in our area.
About Soul Of Miami
The Soul Of Miami has become one of the most popular local community sites in south Florida. It includes an extensive calendar, listing all sorts of happenings from all over the area: charity, arts, happy hours, concerts, networkers, nightlife, fairs, festivals and so much more. Tens of thousands of active south Floridians visiting the site every month.
Entry Includes Tasty Samplings from Elwood's Gastro Pub

(Food pictured are examples, actual samples may vary.)