Life Is Art is very excited to once again be joining the Art Deco Weekend for 2016! As something new for this year, they are hosting an open contest for the Poster Art. You can win a free booth and a solo show at the Art Deco Museum, plus, your name all over the promotional material, so definitely check it out!
– – – – – – – – – – – – – – – – – – – –
Name of the show: 2016 Art Deco Weekend Poster Contest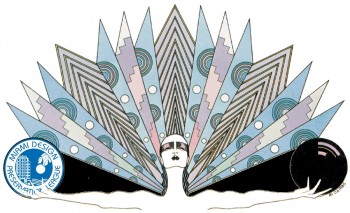 Organizer: Art Deco Weekend
Cost to Apply: $25.00
Submission Deadline: August 31. 2015
Application link
Show Location: Miami Beach
Show Dates: January 15-17, 2015
Call details: The Miami Design Preservation League (MDPL) will celebrate the "Art of Architecture" during the 39th Annual Art Deco Weekend (ADW), which takes place on Ocean Drive in Miami Beach on January 15-17, 2016. The annual festival will honor architecture from coral rock to exoskeletons. They are looking to capture this theme in the 2016 official ADW poster and calling out to South Florida artists to submit their work. The grand prize includes a booth at the 2016 ADW festival and a month long solo exhibit at the Art Deco Museum.
MDPL requires the artist to create a poster that is 24 x 36. Both horizon and vertical designs will be considered, but horizontal is preferred. The poster must be original work. Artists must include specific words including Art Deco Weekend, The Art of Architecture, Miami Design Preservation League, Ocean Drive, Miami Beach and January 15-17, 2016.
MDPL suggests artists visit www.mdpl.org and learn about the organization and their accomplishments. Artists should explore the meaning of architecture as related to art and to be creative in their interpretation of the "Art of Architecture." Artists are encouraged to be familiar with Art Deco and MiMo and see them as part of, rather separate from contemporary architecture, especially as they relate to Miami Beach.
The entries will be judged by a jury including: MDPL's Resident Artist, Iris Chase, Chair of Art Deco Weekend, Lori Bakkum, and Life is Art Founding Director, James Echols. The winning poster and artist will be chosen in mid-September. The official poster will be announced publicly in October.
– – – – – – – – – – – – – – – – – – – –