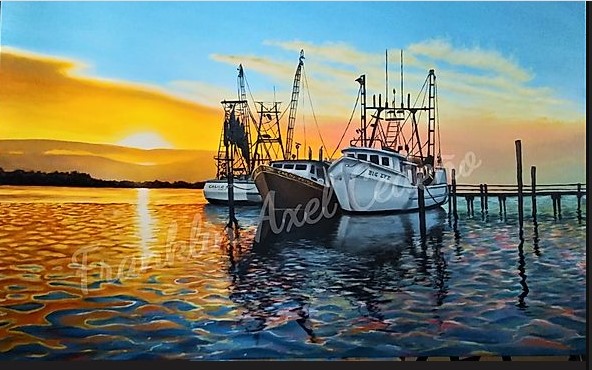 Franklin Axel Cedeno – Nature Loving Artist
Art is all around us, you just have to open your eyes
Base of operations: Port Orange, FL.
How to contact this artist: email
Website www.art-axel.com
Facebook @axelpaintings
Instagram axel_bermudez77
Background: I've been creating art since I was a child. I learned to draw on my own even though I went to school to learn art in Miami and Fort Lauderdale. I'm hispanic and grew up in Miami since I was 10. I now leave in Port Orange, FL. I work as an Industrial Designer and I create oil paintings on my free time.
Tour: I've usually participated in art walks and festivals around South Florida. Mainly in Broward. I love being part of them all.
Career: I did make a career out of art in general since I am an Industrial Designer. As I mention before I create oil paintings on the side which I sell at art events and art galleries.
Inspiration: I love creating tropical landscapes which I can relate to since I was born in a tropical country and grew up in tropica Florida.
Outreach: I use social media a lot, I create videos of me creating my art which help people appreciate my work more.
Medium: At art school, I learned about different mediums to create art but the medium I like working best with is oils.
Why here tho? Because South Florida is a tropical place similar to the country I was born and the bright colors and vivid life all around it gives me the inspiration I need to create my art works.
Favorites: Leonardo DaVinci's art work is my inspiration. If I met him, I would pick his brain so I can learn to see the world the way he did.
Suggestions: Practice, practice, practice until you get it right or at least closest to what you are looking to achieve.
Life: I was part of your out door events and I really enjoyed it. I'm looking forward to be part of the family.
###
Attention Artists, if you would like to be included in our online gallery, just fill out the submission form here.