Life Is Art is proud and honored to have a staff steeped in diversity and inclusivity represented by a wide array of peoples and experiences as diverse as the communities we serve. They are highly experienced and skilled in their roles and bring an absolute dedication to quality and compassion. Our staff understands that to do good, one must be good, and they place integrity and love as the highest virtues.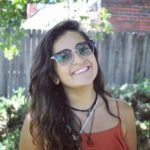 Salome Garcia started out in 2013 as a fire performer and Flow Artist. In 2014, she founded an entertainment service, SaloSpins. Salospins Entertainment has since booked and managed circus and flow performers throughout South Florida including acts in popular Florida events such as Okeechobee Music and Arts Festival, Electric Daisy Carnival, and Life in Color. Her passion and goal is to utilize arts and culture in order to advocate for social and environmental causes, bringing the community together to create positive change. Salome joined the Life Is Art team to head up our matchmaking program to connect business and the arts.

Dita Devi is a Miami-based painter and poet with a direct relationship to the creation and promotion of Miami's vibrant visual and performing arts scene.
Shaktiville – creator and emcee
I Stand With Immigrants Artists Retreat (Wynwood Art Basel) – co-curator and emcee
Promise to Protect – co-facilitator
Miami Rising Main Concert and Festival – art director
Miami Rising Art Competition – director and emcee
Wynwood Stands with Standing Rock – creator and director, emcee
Other co-creation/co-organization projects:

Various events at Jakmel Gallery
Scorpio Bash, Bar Nancy
Sisternity All Female Open Mic
Creative Juices Brickell

South Beach Events co-promotions:

Bollywood Bombshell at Club BED
World Fridays at Nikki Beach with Patrick Mohr
Jimmyz Fridays at Forge with Massimo Rizzo
.
Jennifer Maria
is a multi-disciplinary artist based in Miami Beach, FL USA
Her current disciplines are photography, painting & illustration.
She's most inspired by the ocean.
Her paintings are often abstract expressionism entailing rich texture.
Her photography is typically drenched in color and highlights her love of fluidity and motion
ArtScape WPF, FIU Miami Beach Main Gallery, Miami Beach, FL – Curator
ArtScape WPF- Fache Art Gallery, Miami, FL – Curator
Winter Party Festival's Women's Art Show, Miami, FL – Curator
Interactive Mural, Town of Surfside, Life Is Art, Inc., Surfside, FL – Project Lead
Interactive Mural, Project PEACE, Life Is Art, Inc., Miami, FL – Project Lead
ArtScape WPF, the National LGBTQ Task Force, Miami Beach, FL – Chair
Spectrum Miami, Life Is Art Booth, Miami, FL, Artist, Live Painting
Interactive Pulse Memorial Mural, OutMiami, Miami, FL – Lead Artist
Live Pulse Memorial, Adrienne Arsht Center, Spoken Soul Festival, Miami, FL – Artist

Ashley