Here is a fabulous opportunity to be shown in Venice, Italy! Definitely check this one out.
– – – – – – – – – – – – – – – – – – – –
Name of the show: ArtVenice Biennale 3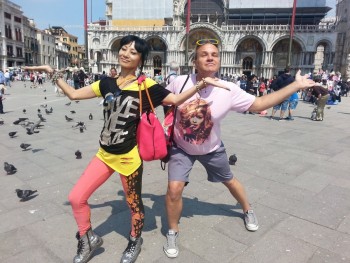 Organizer: The Biennial Project
Cost to Apply: The entry fee for ArtVenice Biennale3 is $35.00 (US) for 3 images, $40.00 for 5. Additional images may be submitted at $5.00 (US) each. Payment is by Paypal.
Submission Deadline: March 23, 2015
Application link
Show Location: Venice Italy
Show Dates: May 4, 2015
Call details: The Biennial Project is thrilled to announce an open call to artists worldwide for ArtVenice Biennale 3 – an online juried competition as well as a large screen digital presentation being held at a beautiful large gallery space in Venice, Italy during the Opening Week of The Venice Biennale 56!
If your work is selected for inclusion in ArtVenice Biennale3 it will also be shown on our website and in a blog posting reaching over 6,000 very important people of influence in the international art world, (mondo artistico internazionale). Best of all your art will be presented for one night as a digital display at The Biennial Project's extravagant, VIP Gala event in Venice, Italy during the opening week of The Venice Biennale 56. That's La Biennale di Venezia for you international folk.
for info and how to enter go to. http://biennialroadshow.com/?page_id=284
– – – – – – – – – – – – – – – – – – – –