The annual Arts Challenge is open from the Knight Foundation. They have millions to give away and anyone can apply, so definitely check it out.
– – – – – – – – – – – – – – –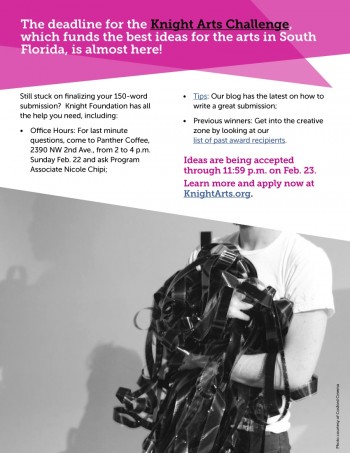 Beginning Jan. 26, South Floridians can apply for the Knight Arts Challenge, which funds the best ideas for bringing the community together through the arts. The deadline for the challenge, a project of the John S. and James L. Knight Foundation, is Feb. 23. Submission Page: KnightArts.org
"Whether you are an arts organization or a small collective, a longtime South Florida artist or someone who moved to town recently, we want to hear from you," said Dennis Scholl, vice president of arts for Knight Foundation. "Our goal is to make art general in South Florida. We do that through the challenge, and finding the best grassroots ideas for bringing our community together through the arts."
Anyone can apply. All it takes is 150 words to fill out the initial application, which will be available at knightarts.org and is deliberately designed to be simple to encourage nontraditional applicants.
There are only three rules for the challenge:
1) The idea must be about the arts.
2) The project must take place in or benefit South Florida
3) The grant recipients must find funds to match Knight's commitment.
Knight has received more than 8,900 ideas from the South Florida community since launching the challenge in 2008. In total, 241 projects have received almost $25 million in funding.
Since 2006, Knight Foundation has invested more than $86 million in South Florida's cultural community. Those funds have launched a new media program that includes the signature "Wallcasts" at the acclaimed New World Symphony campus, helped present Ibero-American films at the Miami International Film Festival, and are bringing every Miami-Dade third-grader to the new Pérez Art Museum Miami, among other projects. The approach is two-pronged: Knight Foundation aims to open up institutions to more South Floridians with large grants, while the Arts Challenge ensures that smaller, grassroots efforts fuel and refresh the arts scene.
– – – – – – – – – – – – – – –