Received this exciting call from Venice, Italy. They have opportunities for a very wide variety of artistic styles and disciplines, so definitely check it out!
– – – – – – – – – – – – – – – – – – – –
Name of the show: CONTEMPORARY VENICE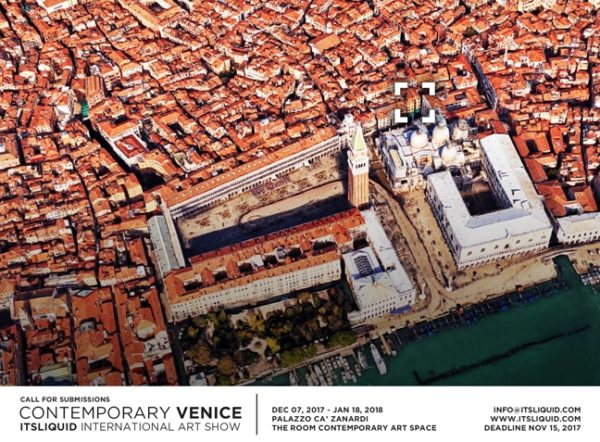 Organizer: It's LIQUID Group
Cost to Apply: not defined
Submission Deadline: November 15, 2017
Application email: ilaria.itsliquid@gmail.com
Show Location: Venice
Show Dates: December 07, 2017 to January 18, 2018
Call details: CALL FOR SUBMISSIONS: CONTEMPORARY VENICE
ITSLIQUID International Art Show
Deadline: November 15, 2017
It's LIQUID Group, in collaboration with Ca' Zanardi and VENICE EVENTS, is selecting all interesting photos, paintings, video art works, installations/sculptures, architectural projects and performance art works to include in the next event CONTEMPORARY VENICE – ITSLIQUID International Art Show, international exhibition of architecture, photography, painting, video art, installation and performance art, that will be held in Venice, at Palazzo Ca' Zanardi, from December 07, 2017 to January 18, 2018 and in the new art gallery THE ROOM Contemporary Art Space, from December 07 to 22, 2017.
Selection is open to architectural project, video art, photography, painting, sculpture/installation, art performance and experimental dance. Artists, architects, photographers, video makers and performers are invited to submit their works and projects by e-mail to lucacurci@lucacurci.com
CONTEMPORARY VENICE is an exhibition of contemporary art, an opportunity for international artists and architects to show their works in two of the most important exhibition places in Venice. The main theme is based on contemporaneity as a source of inspiration and a starting point for new visions of the world. The exhibition aims to analyze the contemporary human lives and behaviors, the relationship between man and urban/natural backgrounds.
The meditation about the daily contacts between humankind and contemporary phenomena is always object of artistic investigation. Art starts from the material and psychological aspects of the human life in specific time and contexts. We invite artists and architects to share their works, ideas and researches based on the theme of the event.
Deadline for applications is November 15, 2017 (11.59 PM of your local time)
– – – – – – – – – – – – – – – – – – – –