A cool call from San Fransisco. No fee to apply so definitely check it out!
– – – – – – – – – – – – – – – – – – – –
Name of the show: ARTiculAction 2017, Biennial Edition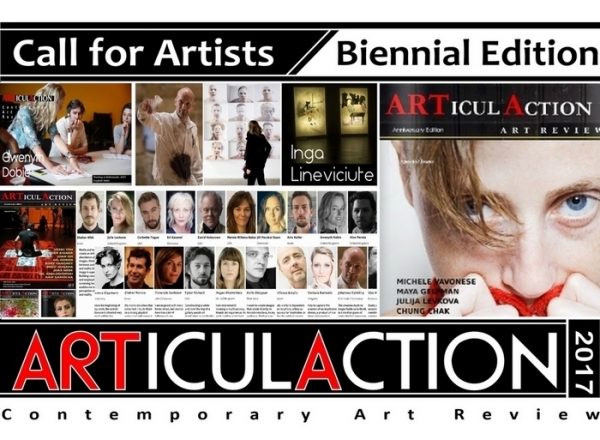 Organizer: ARTiculAction
Cost to Apply: Free / No entry fees
Submission Deadline: October 27, 2017
Application email
Show Location: San Francisco, California
Show Dates: October 30, 2017
Call details: After two successful biennial editions with the participation of hundreds of visual artists, performers and curators from all over the world, ARTiculAction is celebrating its twelve years long activity launching its 2017 biennial edition, that will once again explore new tendencies and trends in Contemporary Art.
They are seeking artists to be featured in the next issue of their art publication, that comes to its 12th edition. ARTiculAction offers a unique opportunity to be published in their special issue, as well as online on several web platforms and social media. The mission of ARTiculAction is to promote artists and connect them with curators and gallerists as well as with the larger artists' community and art lovers. This is accomplished by artist profiling, art magazine publication with the intent to showcase diverse creative explorations via various media.
Submission guidelines
1. Elegibility: the competition is open to all artists, both national and international: each applicant may submit a maximum of three works or projects made in any technique, including
• Painting
• Mixed Media
• Installation
• Video Art & Short Film
• Fine Art Photography
• New Media Art
• Public Art
• Performance
2. Application: please fill the entry form that you will find at http://articulaction.yolasite.com
3. Information: For any further clarification, feel free to contact our board biennial.articulaction@post.com
There are no entry fees.
– – – – – – – – – – – – – – – – – – – –