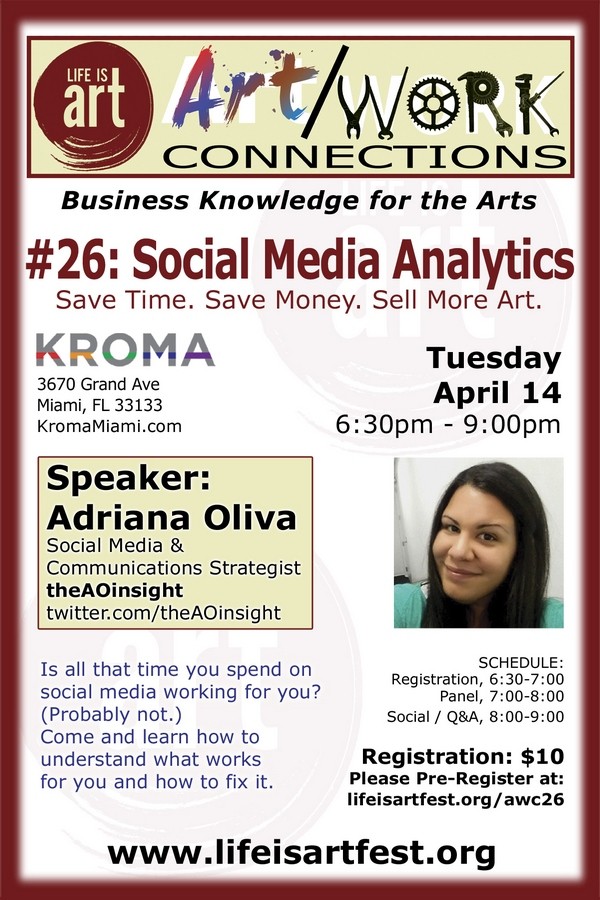 Art/Work Connections Seminar #26:
Social Media Analytics for Artists
ADVANCE REGISTRATION IS NOW CLOSED. PLEASE REGISTER AT THE DOOR!
DATE: Tuesday, April 14, 2015
TIME: 6:30pm-9:00pm
LOCATION: KROMA Gallery
3670 Grand Ave
Miami, FL 33133 (Coconut Grove)
305-446-5150
MAP
Requested donation just $10
If you cannot afford it, you are still welcome!
Hashtag #ArtWorkCon
Tell your artist friends all about it.
Subject: Social Media Analytics for Artists & Creatives
Speaker: Adriana Oliva, Social Media & Communications Strategist, theAOinsight
Wine and refreshments included.
Many artists spend a lot of time on social media posting their work. But, do they know whether it is really working? There are tools, many of them free or low cost, that help a user understand the impact of their social media promotion. Come and learn how to identify your best channels and what sort of posts create the most impact.
How do you know if the platforms you use are where your potential new buyers are? How do you know if the kind of posts you make are appealing to potentially new buyers and fans? This seminar will help you save time and sell more art. As you focus your social media promotional efforts to those that really bring in new buyers and fans, you will see a greater return on your investment. Yes, we will be talking real numbers, how you can find those numbers, and how to understand them.
Schedule:
6:30-7:00, Registration
7:00-8:00, Presentation
8:00-9:00, Q&A Social
# # #
About Adriana Oliva
Adriana Oliva kicked off a career in event planning in 2003 with a passion for coordinating events and bringing people together. For the last ten years, her work has ranged from coordinating major cultural events in Miami, to hosting and organizing press conferences and other media-related events, social & corporate events, catered affairs and working with several non-profits and cultural institutions across South Florida.
Adriana's resume incorporates an extensive background in event planning for private clients, businesses and non-profits, working with all types of budgets. Her accomplishments include organizing, most recently, DWNTWN Art Days @ McCormick Place (2012 & 2013), The Miami Hong Kong Dragon Boat Festival (2003-2008, 2013), fashion shows, documentary screenings, logistics, strategic planning and project management. After a three and a half year stint with the Miami Science Museum as the Events, Sales and Marketing Manager, where she worked on signature events including the new Museum's Ground Breaking, Adriana decided to venture off on her own and pursue other private event businesses.
theAOinsight, is a full service communications, marketing, design and events firm. Adriana's clients have ranged from the political arena, to prominent foundations, businesses, festivals, municipalities and private events. Adriana loves her community and shows her appreciation of it by volunteering and giving back.
About Kroma
A new collective art space located on Grand Avenue in the heart of Coconut Grove consisting of 18 artists studios and a communal gallery space. KROMA's mission is to serve as an affordable, contemporary space for artists, whose creative output will contribute to connecting the spirits of Coconut Grove's rich past, present and future.
About the Art/Work Connections Program
The Art/Work Connections program is a series of of professional development seminars held at galleries and art spaces around South Florida targeted at artists and those working in the arts featuring experts speaking on a variety of topics vital to the success of working artists. Everyone is welcome and can benefit from them. Business professionals are brought in to cover a wide variety of topics including health care, financial planning, contract negotiation, copyright law, portfolio development, social media, marketing and much more.
About Life Is Art, Inc.
Life Is Art is a Florida-based 501(c)3 non-profit corporation dedicated to creating positive change in the community with the arts and culture through events and education. We give South Florida artists and civic leaders the tools to thrive and grow, while enhancing the lives of those living in our area. Having just celebrated its six year anniversary, Life Is Art is poised to continue being one of the few true advocates for the local arts and artists.