Bringing People and Art Together
Life Is Art & Soul Of Miami present the River Of Art with an exciting evening of business networking featuring an interesting show, excellent music, delicious cuisine tastings and refreshing beverages. The River Of Art is a monthly gathering place of Miami's good people, executives, industrialists, innovators, creators, entrepreneurs, changemakers, activists, and artists. Attendees enjoy complimentary tastings of Cibo Chef's Selection of Signature: Pizzas, Polenta Fries, Spiducci, Bruschetta, Arancini, Polpettine, and drink specials with entry.

NEW LOCATION! CIBO WINE BAR MIAMI BEACH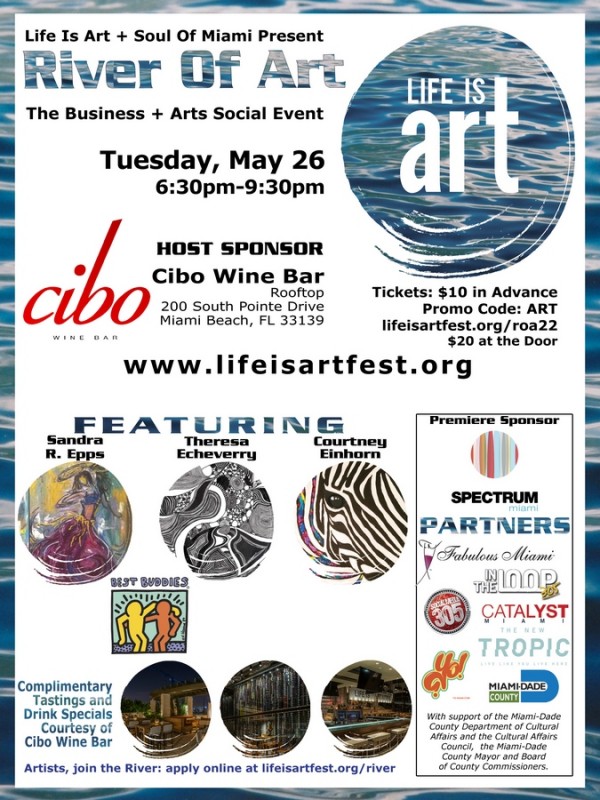 ADVANCE TICKETS SALES ARE NOW CLOSED. PLEASE PURCHASE TICKETS AT THE DOOR. THANK YOU!
DATE: Tuesday, May 26, 6:30pm-9:30pm
LOCATION: Cibo Wine Bar
200 South Pointe Dr, Miami Beach, FL 33139
TICKETS: $10 with Advance Purchase, Promo Code: ART
$20 at the door.
Advance Ticket sales end at 2:00pm on May 26th
Proceeds go to support Life Is Art's mission of supporting the arts and community.
Includes complimentary tastings and drink specials courtesy of Cibo Wine Bar.
Hashtag: #RiverOfArt
Share with your Facebook friends
Featuring
Visual Artists: Sandra R. Epps, Theresa Echeverry, Courtney Einhorn
Charities: Best Buddies
Each month, Life Is Art brings the community together at our River Of Art pop-up art-in-public-places show to socialize through the power of the arts with the goal of exposing new artists, introducing new people to art appreciation, providing an inspiring space to make new connections, showcasing local businesses and charities, while providing a fun break during the work week.
Art is an inspiring talking point, discussing it is a great way to break the ice. Culture is one of the primary elements that build community and hosting a business networker within an art show is a unique way to encourage socializing, so attendees are encouraged to bring plenty of business cards and an open mind.
Premiere Sponsor: Spectrum Miami
Partners: Fabulous Miami – YOMiami – SocialMedia305 – Catalyst Miami – InTheLoop305 – Arts & Business Council – Bakehouse Art Complex – Association of Fundraising Professionals – Social Media Club South Florida – The New Tropic
With support of the Miami-Dade County Department of Cultural Affairs and the Cultural Affairs Council, the Miami-Dade County Mayor and Board of County Commissioners.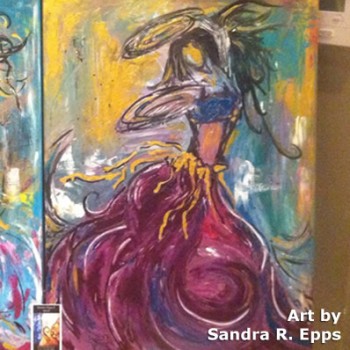 About Sandra R. Epps
I am a self taught artist born in Charlotte, North Carolina, with a Mexican/Cuban and New Orleans Creole background. Using my international travels and curiosity for diverse cultures as my inspiration for my pieces, I create images on canvas with themes of sensuality and inner beauty. I use no paintbrush at times for many of my pieces, and bring life to the canvas with bright color tones and metallic paints.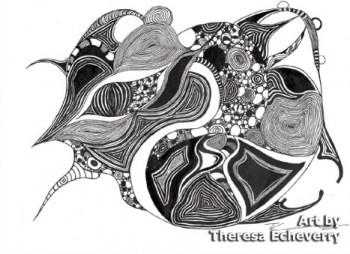 About Theresa Echeverry
Native New Yorker with a passion for life, art, and travel. Graduated from SVA with a Fine Arts degree and continued my education in Art Therapy at Hofstra. My work describes a state of confusion, loss, and love for the unknown. It transforms into a visual recollection of the world through my eyes full of color, even where there is none, and rich in culture and travel. Currently living in Miami and exploring my art further.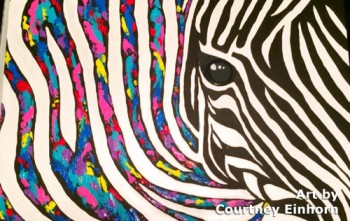 About Sandra Courtney Einhorn
Art fusion galleries: oct-dec 2014
Coconut grove arts festival 2015
Las olas art festival 2015
All other, smaller projects listed on my website
About Best Buddies
Creating a global movement of opportunities for friendship, employment & leadership development for people w/ intellectual and developmental disabilities. Founded in 1989 by Anthony K. Shriver, Best Buddies is a vibrant, international organization that has grown from one original chapter to more than 1,700 middle school, high school, and college chapters worldwide. Best Buddies programs engage participants in each of the 50 United States, and in over 50 countries around the world. Best Buddies' eight formal programs — Middle Schools, High Schools, Colleges, Citizens, e-Buddies®, Jobs, Ambassadors, and Promoters — positively impact more than 800,000 individuals with and without disabilities worldwide. Best Buddies volunteers annually contribute, at no cost to their communities, support services that equate to more than $168 million USD.
About Cibo Wine Bar
South of Fifth's Cibo Wine Bar…Big Bold & life is Beautiful. Cibo is the biggest and newest Italian eatery in all of South Beach. Created by Liberty Entertainment Group, this bold and beautiful 12,000 sq ft space is a blend of old world rustic and modern industrial chic. Hand-Made Traditional Italian Cibo… a true taste of authentic southern cooking fresh made amongst patrons at the 60ft open kitchen counter.
3500 Bottles Of Vino in a soaring two-story award-winning wine room equipped with harnessed wine angel to retrieve your favorite bottle. From Cibo's Industrial Chic vibrant bar area to the casual Ocean Drive Street Side Patio to one of Sobe's Largest Rooftop Patio, every corner turned offers a distinctly different experience. This celebrated eatery would not be complete without original artwork from renowned artists Mr. Brainwash and Randy Cooper. When in Miami, this space cannot be missed!
About the River Of Art Program
The River Of Art is a monthly business networker and art showcase combined. We provide more than just a platform for professionals to get together, discuss business strategies and make connections, we create synergies to help promote business by including an amazing art show of local talent!
About Life Is Art
Life Is Art is a Florida-based 501(c)3 non-profit corporation dedicated to creating positive change in the community with the arts and culture through events and education. We give South Florida artists and civic leaders the tools to thrive and grow, while enhancing the lives of those living in our area.
About Soul Of Miami
The Soul Of Miami has become one of the most popular local community sites in south Florida. It includes an extensive calendar, listing all sorts of happenings from all over the area: charity, arts, happy hours, concerts, networkers, nightlife, fairs, festivals and so much more. Tens of thousands of active south Floridians visit the site every month.