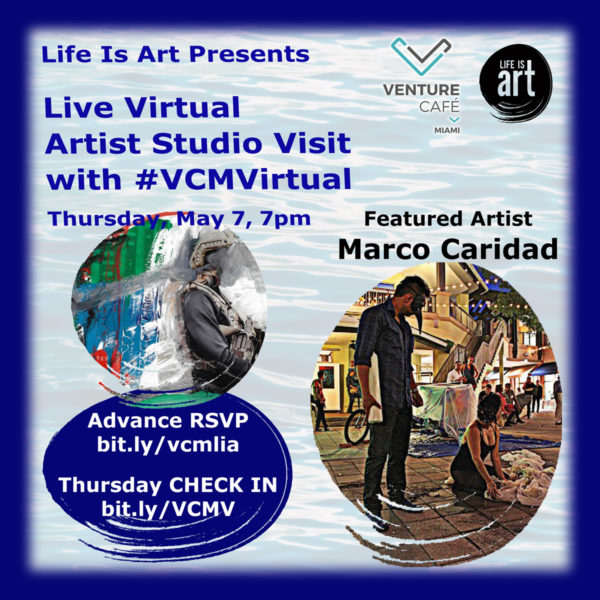 Virtual Artist Studio Visits
Live at #VCMVirtual
Thursday, May 7, 7:00pm – 7:45pm
Featuring Marco Caridad
RSVP NOW!
Join Life Is Art during our weekly sessions at Venture Cafe's #VCMVirtual online events to meet local artists. Take a step "out" of your lockdown to enjoy a tour of the artist's studio, listen to their stories, and interact with them to ask about their lives and process. Go full-screen and it is almost like you are there!
It is a break from the talking heads of most Zoom meetings. A way to get "out" and see something new and different. The opportunity to talk creativity and inspiration. To refresh your spirit and feed your soul. To pep up your mind maybe help you look at things from a new perspective. Art IS innovation and Life Is Art.
MARCO CARIDAD
I was born in the decade of the 80s, technological boom, where computers, video games, and television were within reach for my entertainment. I was fascinated by the films and animated shorts and the art that accompanied them, with a visual aesthetic moving within a three-dimensional space. As a child, I used to find images hidden in the clouds. I was passionate about taking pictures of nature's details. My eyes searched for their abstract forms, their different textures.
This childhood concern of curious eyes to discover new sensations, accompanied me during my growth as a visual artist. Try to create an art where the gestures are in real-time and space, rich in layers of textures, live in colors to reach an expressive climax, incorporate the spoken word without my art being confused with theater and/or cinema, but rather enriching them and other artistic disciplines such as printmaking, photography, installation, painting, was a challenge both formal and conceptual. I looked for inspiration in the works of Mark Rothko and Salvador Dali. The first one gave me sensuality in color as a coherent and unitary whole of composition; the second, the use of the symbol and the oneiric theme.
My art could define it as an experimental space where from the use of coffee as a base of the support mixed textures, mixed techniques (chalk, acrylic, collage, oil, etc.) and multiple disciplines (photography, engraving, digital art, installation, performance ) that allow me to investigate art as a means of expressivity and human communication.
I have explored in disciplined and varied techniques that allowed me to find a way to tell my existentialist stories as a human being. Today I have proposed to narrate other themes to awaken collective consciousness. I am exploring new technologies to be more active with issues of environmental impact and social values.
The multi-layered, colorful, and textured mixed media in Caridad Valera's work have in common the artist's fascination with the Latin American culture, environmental problems, and social values. Marco Caridad Valera (b. 1985) was born in Maracaibo, Venezuela and moved to Miami in 2011. He holds a BFA (Graphic Design) from The University of Zulia, and a Master of Arts from Miami International University of Art and Design. Marco has been a professor at Istituto Marangoni and the University Catholic Andres Bello. He has representation in Galleries in Miami, Doral, and Puerto Rico. Caridad Valera has a background in advertising and theatre; He has worked on projects with Lenny Kravitz, Miami City Ballet, and Hard Rock International among others.
HOW TO GET THERE: On Thursday, after 4:00pm go to www.venturecafemiami.org/vcmvirtual . Follow the instructions there.
Event is BYOW (bring your own wine)