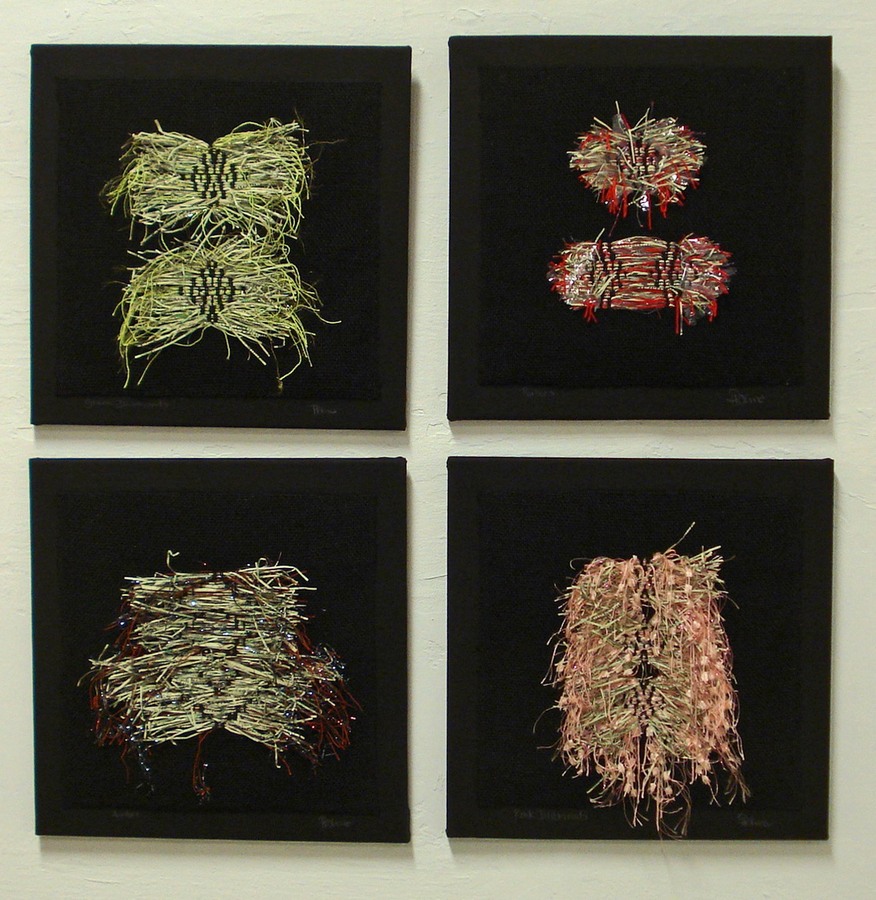 Pamela Palma
– Contemporary traditional timeless
Making the world a nicer place one thread at a time
Base of operations: Miami Beach
How to contact this artist: Contact form on
www.pamelapalmadesigns.com
Background: Pamela Palma is an artist and designer whose work focuses on fiber as a means of artist expression. An accomplished weaver and dyer, she developed a love for yarn and fabric in her childhood, learning to sew and knit before kindergarten.
Her art works encompass the expansive range possible in art fabrics: conceptual tapestries, social commentary, mixed media, complex weave structures as wall panels, wearables, and most recently, a line of domestic textiles.
An accidental weaver, she bypassed numerous opportunities in that field until college, where her undergrad program required Design in Fibers – which meant weaving. It was then that she fell in love with the process.
Pamela says, "Weaving is magical! Although complicated to dress the loom, it is a system that has worked since before the beginning of time. It allows the artist to create functional and decorative art using yarn interlaced ingeniously on looms.
"When I am at the loom I am transducing the continuum of time-space, weaving the past into the future through the present."
Her work elevates the techniques of weaving in to the fine art known as fiber art.
Pamela Palma is a resident artist at the Bakehouse Art Complex where she designs and creates with all sorts of fiber related materials and processes. With a fleet of looms, and incredible patience, she is able to impart her skills on students of all ages. She is the Founding Director of Fantastic Fibers Miami, a guild for fiber artiists. She is a member of the Board of Directors for the American Tapestry Alliance, an international organization that promotes the art of tapestry through exhibitions, catalogs, awards and scholarships.
Her work reflects places she has lived and visited, mythologies of feminie dieties, and political commentaries. VIsit her studio, # 41 at the Bakehouse Art Complex.
Tour: Museo Textil de Oaxaca, Oaxaca Mexico
Armory Art Center of West Palm Beach, Florida
Florida CraftArt Gallery, St. Petersburg, Florida
ArtRage Gallery, Syracuse, New York
Painted Bride Art Center, Philadelphia, PA
Biggs Museum, Dover, Delaware
Career: I am a full time, career artist.
Art *is* my life. I work at it every day.
We don't choose to become artists; Art chooses us. We either heed the call or we don't. I did. I do.
I make art to add to the beauty and wonder of the natural world. I believe we need beauty in our lives to be well, to be grateful, to be joyful.
Inspiration: Where do ideas come from? This is esoteric. I attribute them to my personal Muses who whisper into my subconscious: use these colors, create this, make that statement, express a different reality.
I use a lot of color. Nature is filled with color. Nature is the ultimate visual artist. Everything else is derivative, emulative, acknowledgement of a force greater than oneself.
Outreach: I have a viable website, I post often on social media, I am director of PLY-Miami, an active fiber art guild engaged in community projects and fundraising (see pamelapalmadesigns.com/PLY-Miami)
I would like to see/start a textile art center to provide education and exhibition opportunities; to develop a textile industry creating usable products with recycled clothing. In Miami.
Medium: I have been attracted to the versatility of textiles since childhood. There are infinite ways to use yarn, thread, fibers, cloth as artistic expressions and as functional objects. Just wear your art! Just use your art!
I create fine art through weaving on looms (very complicated discipline) interlacing colors and textures with patterns. In addition to weaving, I knit, sew, design and make clothing and household items, I crochet, embroider, print fabrics, combine techniques…
Please correct the common misconception: Textile techniques are each separate and distinct methods of working with fibers. They are not adjectives for one thing. (Like dogs are not cats.)
Why here tho? It is beautiful here. We have an ocean with turquoise water, abundant flora and fauna – oh the magnificent birds!!
We have the richness of cultural diversity. It is a place like no other. It has been my home for nearly 30 years.
Favorites: I admire the work of Faith Ringgold who depicts stories through her pictorial quilts. I am nit a quilter but I admire those who are able to create this way using cloth, often just bits and pieces.
Also the Gees Bend quilters who are not artists yet produce magnificent works of textile art.
It is as if these women make something out of nothing. This work is often overlooked in the art world yet it is perhaps the least contrived an most meaningful.
I have no questions for any famous artists.
Suggestions: Being a true artist is an avocation. Either you are born to it or you are not. There are many commercially successful 'artists' who go to school to learn art formulas and produce volumes of work.
This is different from an artist who has a calling to create from her heart, from her soul.
True, one can hone her skills, learn new techniques in school but what comes from within cannot be taught. It can only be cultivated, nourished.
Life: Thank you for encouraging and promoting local artists.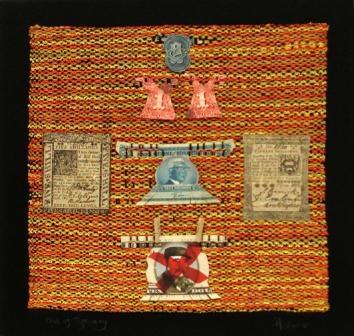 ###

Attention Artists, if you would like to be included in our online gallery, just fill out the submission form here.