2019 is our 10th Anniversary! Join us at Concrete Beach Brewery to kick it off early at their Deck the Walls party!
A weekend celebration of art, community and beer.
Saturday, November 10th, 3:00pm – 8:00pm
Sunday, November 11th, 1:00pm – 6:00pm
Concrete Beach Brewery
325 NW 24th St, Miami, Florida 33127
RSVP on Facebook
Join Concrete Beach Brewery to help Life Is Art jump start our fundraising campaign for our major Decennial Anniversary Art Show in 2019 that will feature hundreds of South Florida artists. $1 from every pint of Deck the Walls Spiced Imperial Porter sold between November 10th-11th at the Concrete Beach Social Hall will be donated to Life is Art (up to $1000). All money raised this weekend will go toward making that dream a reality!
#DrinkArtMakeBeer comes to life with the Deck the Walls Spiced Imperial Porter can which features the art of Courtney Einhorn, last year's Deck the Walls can art contest winner.
On Saturday, witness a live mural painting by the world famous Atomiko while enjoying live drum performances by Dante Lee Pigatt from Psychic Dove. You can support local arts and create your own, personal piece of artwork with Dita Devi that you get to take home with you!
On Sunday, join us for live art and the 2018 can release of the spiced imperial porter, Deck the Walls, plus a meet and greet with Courtney Einhorn. Live music will be playing all night long!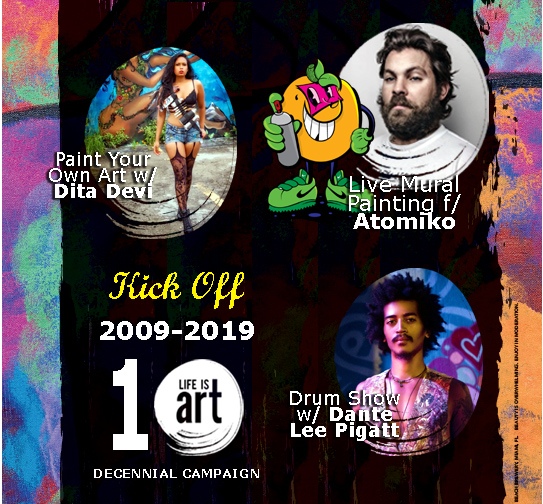 ATTENTION ARTISTS: There is still time to get in the contest for next year!
Submit Your Art For the Concrete Beach Brewery 2019 Limited Edition Deck The Walls Spiced Imperial Porter
Submission Deadline: November 19, 2018
WINNING PRIZES
$500 Cash Prize
Your Design Printed On Cans
Can Release Party at the Social Hall
Gallery Showing during 2019 Art Basel
CLICK HERE TO SUBMIT YOUR WORK
Three (3) submissions will be selected by Concrete Beach Brewery and Life Is Art on 11/20/18 and entered into an online voting round beginning on 11/20/18 and ending 12/7/18.