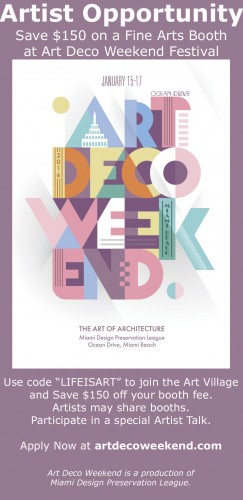 Life Is Art is excited to again be working with the Miami Design Preservation League for the 39th Annual Art Deco Weekend. The theme this year is "The Art of Architecture."
For 2016, the Artist Village has been expanded and improved with additional programming and an Art Bar. The best news is Life Is Art is getting artists some very special benefits!
* DISCOUNT BOOTH RATE: Click this link, fill out the form and enter LIFEISART to receive a discounted booth rate of $550.00 (regularly $700).
* BOOTH SHARING: Art Deco Weekend will allow Life is Art vendors to share booths. If artists want to share booths, they must contact Marie Hernandes directly: Marie@mdpl.org or 305.672.2014
* ARTIST TALKS: In addition, participating booth artists also have a special opportunity to do an artist talk at the Art Bar pavilion.
CLICK HERE TO APPLY
Use the discount code LIFEISART
Click here for more information on Art Deco Weekend.