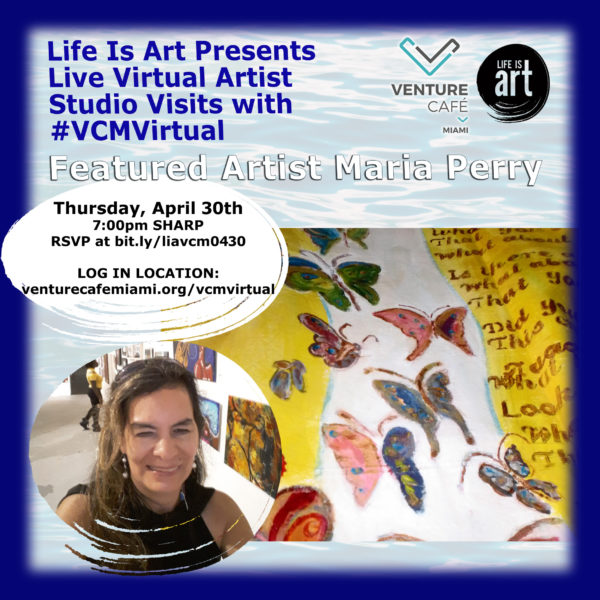 Virtual Artist Studio Visits
Live at #VCMVirtual
Thursday, April 30, 7:00pm – 7:45pm
Featuring Maria Perry
RSVP NOW!
Join Life Is Art weekly during the #VCMVirtual sessions to meet local artists. Take a step "out" of your lockdown to enjoy a tour of the artist's studio, listen to their stories, and interact with them to ask about their lives and process. Go full-screen and it is almost like you are there!
It is a break from the talking heads of most Zoom meetings. A way to get "out" and see something new and different. The opportunity to talk creativity and inspiration. To refresh your spirit and feed your soul. To pep up your mind maybe help you look at things from a new perspective. Art IS innovation and Life Is Art.
This week we feature Maria Perry. In her art the digital prints depict a socio-political problem, emphasizing social Justice, injustice where police brutality, in some cases, is the theme. Other images speak about Juvenile Violence, using poetic means and picture. Other pieces are just religious and poetic, using environmental themes. Find her on Instagram, Facebook, and her Website.
HOW TO GET THERE: On Thursday, after 4:00pm go to www.venturecafemiami.org/vcmvirtual . Follow the instructions there.
Event is BYOW (bring your own wine)