Received this call from a brand new Afrocentric arts festival. If you are involved in the African arts, definitely check it out!
– – – – – – – – – – – – – – – – – – – –
Name of the show: African Wardrobe Festival
Organizer: African Wardrobe Festival, Inc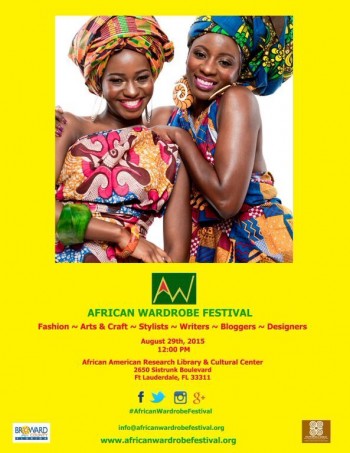 Cost to Apply: 0
Submission Deadline: August 14, 2015
Application email: info@africanwardrobefestival.org
Show Location: African American Research Library & Cultural Center
Show Dates: August 29, 2015
Call details: African Wardrobe Festival, Inc (AWF) is accepting submissions in the following categories: artists/painters, spoken word poets, writers, and research papers.
All submissions must be Pan-African, Afrocentric, African-centered, and your original work. Submissions must reflect wither the mission and or purpose of African Wardrobe Festival, Inc. By submitting your work, you are automatically entered to be considered to be part of our African Wardrobe Festival Expo on August 29, 2015.
For spoken word poets, please submit one audio or video recording of your piece.
For writers and research papers, please submit a summary of your writing.
By submitting your work you are also granting African Wardrobe Festival, Inc (AWF) its partners, subsidiaries, and third party affiliates the non-exclusive rights to use your work online, digital, and in print for the purposes of The African Wardrobe Festival.
About The African Wardrobe Festival, Inc
The #AfricanWardrobeFestival is a fashion festival where the attendees are the models and everywhere they go is the runway. It features the finest African clothes, arts & craft and literature. The purpose of the festival is to promote African attires and #wardrobes. Its mission is to bring together the African Diaspora with African-Americans; to educate, promulgate African history, traditions, and culture by organizing cultural events, festivals, workshops, and talks.
www.africanwardrobefestival.org
Please send all submission to info@africanwardrobefestival.org.
– – – – – – – – – – – – – – – – – – – –