Our River Of Art show originally scheduled for March 19th has been postponed due to health concerns. New date to be announced soon. Be safe out there, we love you!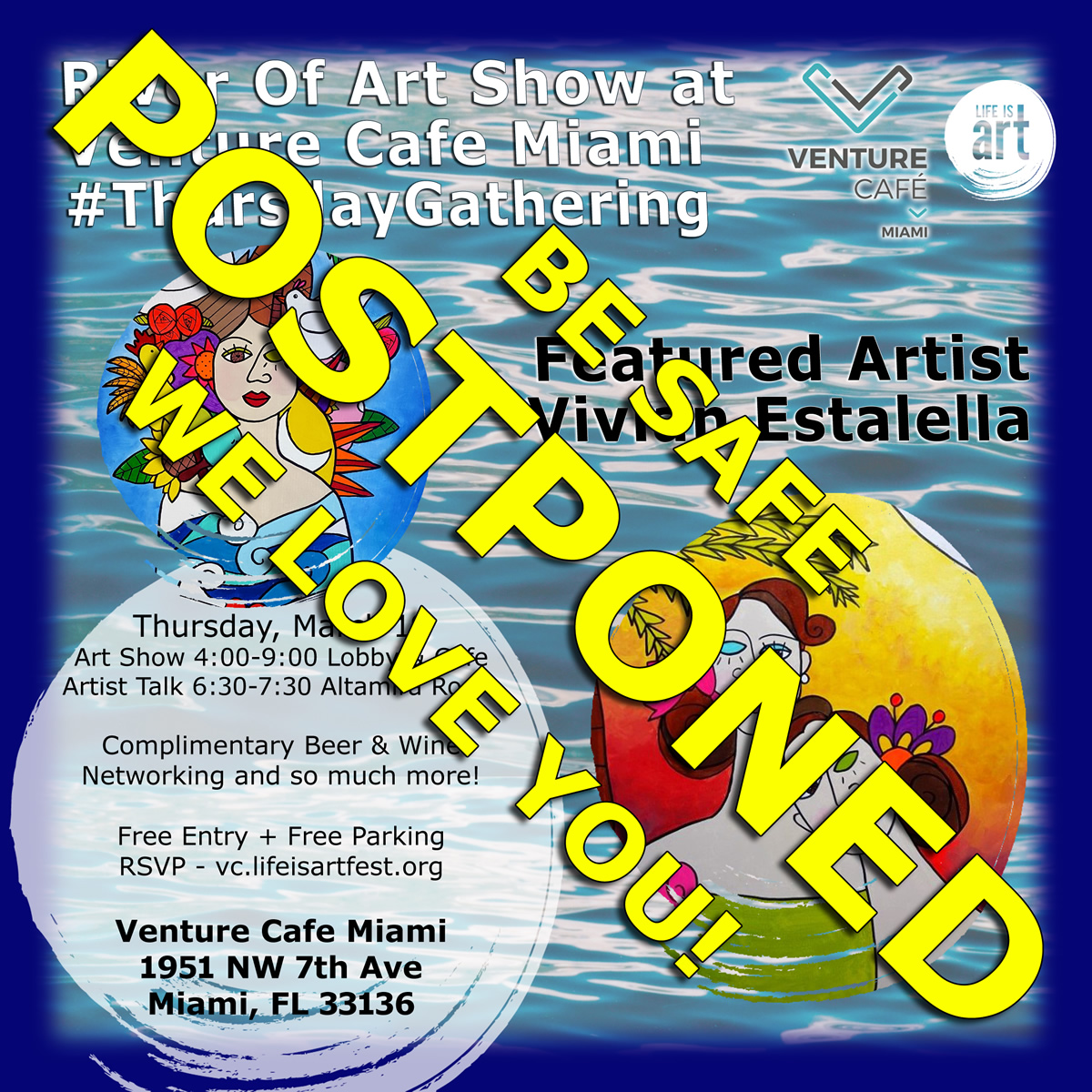 4:00pm – 9:00pm
Thursday, March 19, 2020
Venture Cafe Miami
1951 NW 7th Avenue
Miami, FL 33136
FREE
RSVP on Facebook
Please RSVP so we have enough refreshments on hand!
Life Is Art is excited to announce that we have joined with the immensely popular Venture Cafe Miami to expand the audience for local art and artists. Third Thursdays, Life Is Art will host a River Of Art Show at the Venture Cafe Miami #ThursdayGathering.
* Art Exhibition 4-9
* Artist Talk 6:30
* Free Entry
* Free Parking
* Free Wine & Beer
* Tons of great networking and interesting breakout sessions to attend!
MARCH FEATURED ARTIST: Vivian Estalella
I am a Cuban-American artist. My work reflects the colors of my culture. I was raised in a family of strong independent women. The female influence is prevalent in my art, usually depicting women and the beauty of the feminine form.
Artist Statement: "For me art is a feeling, an expression that can instantly transport you. Through the use of color and lines you can be taken to a place of peace. As an artist I choose to guide you on a journey of love to a place and time that will awaken your spirit and breathe life into the mundane. Along the way you will see deep into my soul and experience the passionate rhythm of my culture."
Cuban-American artist Vivian Estalella was born and raised in Miami, Florida in a family of strong independent women. As a little girl, she never played with dolls or toys. Instead, she preferred to spend her time coloring. She was always happier with a box of crayons or paints than a Barbie doll. Always creative, she enjoyed the arts from a very young age. At the age of 15, a trip to Mexico awakened her passion for painting. The intensely rich colors of Mexican art struck a cord and, together with her Cuban roots, formed a style that is both distinctive and uniquely vibrant. The sights, sounds, exotic tastes, and passionate people of the tropics, along with the sensuous female form, are all prevalent in her work.
Vivian's collection has been displayed at several art shows and fairs. She was also a resident artist at Viernes Culturales, Miami's monthly art fair in historic Little Havana for several years. Today, her work can be seen in private collections and exhibited at seasonal art shows. At every opportunity, Vivian gives back to the community. Many pieces have been donated to auctions benefiting various local charities.
Instagram – Facebook – Twitter
* Produced with the support of the Venture Cafe Miami.
* Life Is Art is a certified 501(c)3 charitable Florida corporation. Donations are tax-deductible to the extent of the law.